---
READING - Christmas
---
Reading Comprehension - Christmas
---
Develop your reading skills. Read the following text and do the comprehension question
---
Christmas
Christmas which is celebrated on December 25th is an important Christian holiday. The origin of the word "Christmas" comes from "Christ" and the "Holy.Mass" . It is believed that the day commemorates the birth of Jesus Christ although a lot of people doubt that the Day corresponds to the actual date of his birth. In spite of its Christian origin, Christmas is also celebrated by a lot of non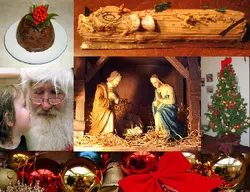 Christian countries and the celebration includes a lot of non religious customs. People exchange gifts and greeting cards. Homes are decorated with Christmas trees, light and garlands. Dinners are planned with special food and all the families gather to have a lot of fun.
A central imaginary figure in Christmas is Father Christmas, also called Santa Claus. He is believed to fly on his sleigh bringing gifts for children .
Christmas is also an opportunity for economic growth. It has become an important period for business activity. Shops make a lot of profit and a lot of countries realized this economic impact.
Source: Wikipedia
Related pages: