---
TEACHING RESOURCES
---
EFL and ESL Resources | 'D. H. Lawrence'
---
Materials for English teachers and learners
---
D. H. Lawrence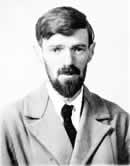 D. H. Lawrence was an English writer and poet. He was born David Herbert Lawrence on September 11, 1885, in the small mining town of Eastwood, Nottinghamshire, England. His father, who was barely literate, was a miner and his mother...
[read more..]
Related Pages:
1.
Short Biography of D. H. Lawrence
2.
Women in Love
3.
Quotes by D. H. Lawrence
4.
Literary resources