---
READING
---
Reading Comprehension | Joker (2019 movie)
---
Develop your reading skills. Read the following text about the joker (the movie) and do the comprehension questions
---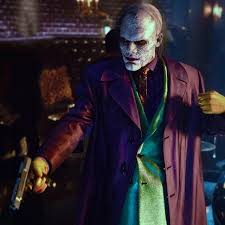 Joker (2019) - writing, cast, and production
Joker is a 2019 American psychological thriller movie directed by Todd Phillips, who co-wrote the screenplay with Scott Silver. The film is inspired by the characters of an American comic book company referred to as DC Comics. The movie stars Joaquin Phoenix as the Joker. The supporting roles are played by Robert De Niro, Zazie Beetz, Frances Conroy, Brett Cullen, Glenn Fleshler, Bill Camp, Shea Whigham, and Marc Maron. The movie was produced by Warner Bros. Pictures, DC Films, and Joint Effort in association with Bron Creative and Village Roadshow Pictures, and distributed by Warner Bros.
Phillips conceived Joker in 2016 and wrote the script with Silver throughout 2017. The two were inspired by 1970s character studies and the films of Martin Scorsese, who was initially attached to the project as a producer. The graphic novel Batman: The Killing Joke (1988) was the basis for the premise.
The plot
The story is set in 1981 and follows Arthur Fleck, a failed stand-up comedian who turns to a life of crime and chaos in Gotham City. Always feeling alone in a crowd, the joker looks for getting connected to others as he walks the streets. He lives a poor life with his mother. He is isolated, bullied and disregarded by society. As a result, Arthur embarks on a slow descent into madness as he transforms into the criminal mastermind known as the joker.
Reception
Joker premiered at the 76th Venice International Film Festival on August 31, 2019, where it won the Golden Lion and was released in the United States on October 4, 2019. The film polarized critics; while Phoenix's performance was praised, the dark tone, portrayal of mental illness, and handling of violence divided responses. Joker also generated concerns of inspiring real-world violence. The movie theater where the 2012 Aurora, Colorado mass shooting occurred during a screening of The Dark Knight Rises refused to show it. The film set box office records for an October release and has grossed over $934 million worldwide, making it the seventh highest-grossing film of 2019 and the highest-grossing R-rated film of all time.
Source: Wikipedia
Related topics