---
READING
---
Reading Comprehension - Health
---
Develop your reading skills. Read the following short biography of Herman Melville and do the comprehension questions
---
Interesting facts about Herman Melville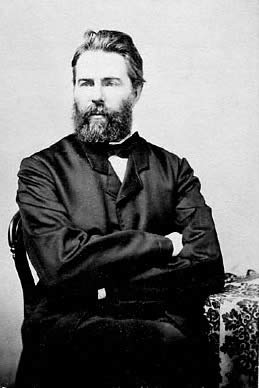 Herman Melville was an American author known for his novel Moby Dick. This a short biography that presents interesting facts about his life and his works.
Who was Herman Melville?
Herman Melville was an American novelist, short story writer, and poet of the American Renaissance period. He was born on August 1, 1819, in New York City and died on September 28, 1891. He is best known for his works Typee (1846), a romantic account of his experiences of Polynesian life, and his whaling novel Moby-Dick (1851).
Melville's education began when he was five, around the time the family moved to a newly built house at 33 Bleecker Street in Manhattan. In 1826, the same year that Melville contracted scarlet fever, Herman's father, Allan Melville, who sent his sons, Gansevoort and Herman to the New York Male High School, described Melville as "very backward in speech & somewhat slow in comprehension". His older brother Gansevoort appeared to be the brightest of the children, but soon Melville's development increased its pace. Later, his father wrote:
"Herman I think is making more progress than formerly & without being a bright Scholar, he maintains a respectable standing, & would proceed further, if he could only be induced to study more—being a most amiable & innocent child, I cannot find it in my heart to coerce him".
Was Herman Melville a sailor?
On May 31, 1839, Herman's brother, Gansevoort, then living in New York City, wrote that he was sure Herman could get a job on a whaler or merchants' vessel. The next day, he signed aboard the merchant ship St. Lawrence as a "boy" (a green hand), which cruised from New York to Liverpool; he arrived back in New York October 1. Redburn: His First Voyage (1849) draws on his experiences in this journey.
Heman subsequently signed up for a whaling voyage aboard a new ship, the Acushnet after a short period of teaching. On January 3, 1841, the Acushnet set sail. Whales were found near The Bahamas, and in March 150 barrels of oil were sent home from Rio de Janeiro.
What inspired Herman Melville?
In 1851, Melville published what would become his signature work, Moby-Dick (initially titled The Whale). Moby-Dick is classified as an example of American Romanticism. It is based on both Melville's years of experience aboard whaleships and the real-life disaster of the Essex whaleship.
The Essex whaleship was attacked and sunk by a sperm whale. Stranded thousands of miles from the coast of South America with little food and water, the 20-man crew was forced to make for land in the ship's surviving whaleboats. They suffered severe dehydration, starvation, and exposure on the open ocean, and the survivors eventually resorted to eating the bodies of the crewmen who had died. The tragedy attracted international attention and inspired Herman Melville to write his famous novel Moby-Dick.
How did Herman Melville die?
In 1867, his oldest child Malcolm died at home from a self-inflicted gunshot. Clarel: A Poem and Pilgrimage in the Holy Land was published in 1876, a metaphysical epic. In 1886, his son Stanwix died, and Melville retired. During his last years, he privately published two volumes of poetry, left one volume unpublished, and returned to the prose of the sea. The novella Billy Budd was left unfinished at his death but was published in 1924. Melville's death from cardiovascular disease in 1891 subdued a reviving interest in his work. The 1919 centennial of his birth became the starting point of the "Melville Revival". Critics discovered his work, scholars explored his life; his major novels and stories have come to be considered world classics, and his poetry has gradually gained respect.
Source: Wikipedia
Related Pages