---
READING
---
Reading Comprehension | Christmas Shopping, the Rise in Spending
---
Develop your reading skills. Read the following text and do the comprehension questions
---
Christmas as a top-selling season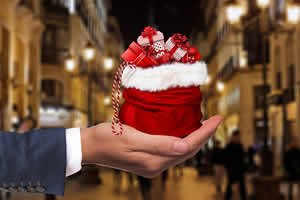 Christmas is generally a top-selling season for retailers in many countries around the world. Because it is a season where people buy gifts, decorations, and supplies to celebrate, sales escalate rapidly. In the U.S., the "Christmas shopping season" starts as early as October. In Canada, merchants begin advertising campaigns just before Halloween (October 31) and step up their marketing following Remembrance Day on November 11. In the UK and Ireland, the Christmas shopping season starts from mid-November, around the time when high street Christmas lights are turned on.
Christmas statistics
In the United States, it has been calculated that a quarter of all personal spending takes place during the Christmas/holiday shopping season. Statistics reveal that expenditure in department stores nationwide rose from $20.8 billion in November 2004 to $31.9 billion in December 2004, an increase of 54 percent. In other sectors, the pre-Christmas increase in spending was even greater. There was a November–December buying surge of 100 percent in bookstores and 170 percent in jewelry stores. In the same year employment in American retail stores rose from 1.6 million to 1.8 million in the two months leading up to Christmas. Industries completely dependent on Christmas include Christmas cards, of which 1.9 billion are sent in the United States each year, and live Christmas Trees, of which 20.8 million were cut in the U.S. in 2002. In the UK in 2010, up to £8 billion was expected to be spent online at Christmas, approximately a quarter of total retail festive sales.
The film industry also take the opportunity to make more money during the Chrismas holidays. Film studios release many high-budget movies during the holiday season, including Christmas films, fantasy movies or high-tone dramas with high production values hoping to maximize the chance of nominations for the Academy Awards.
Christmas Day
In most Western nations, Christmas Day is the least active day of the year for business and commerce; almost all retail, commercial and institutional businesses are closed, and almost all industries cease activity (more than any other day of the year), whether laws require such or not. In England and Wales, the Christmas Day (Trading) Act 2004 prevents all large shops from trading on Christmas Day. Scotland is currently planning similar legislation.
Protest against consumerism
Recently, many people have started protesting against the Christmas season consumerism. For example, Buy Nothing Christmas is an ongoing protest and reaction to the commercialization of the North American Christmas season. Contemporarily a movement was created to extend Adbusters magazine's Buy Nothing Day into the entire Christmas season. The idea advocated by this movement is that buying something never makes one happy. It is our human connections that are essential for our happiness. At a critical moment in human history when global warming is causing so much harm, this movement claims that it is wiser to ignore the advertisements that incite us to buy more, to buy things we do not really need.
Source: Wikipedia
Related Pages