---
READING
---
Reading Comprehension | Aldous Huxley Biography
---
Develop your reading skills. Read the following biography of Aldous Huxley and do the comprehension questions.
Aldous Huxley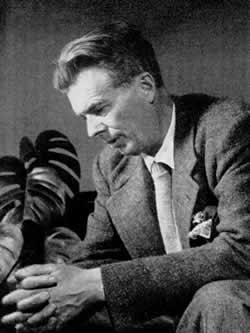 Aldous Huxley was an English writer and philosopher. He wrote about fifty books, both fiction and non-fiction works. He also wrote essays, narratives, and poems.
His life
Aldous was born on 26 July 1894 into the famous Huxley family, whose members are known for excelling in science, medicine, arts, and literature. He graduated from Balliol College, Oxford with an undergraduate degree in English literature. Early in his career, he published short stories and poetry and edited the literary magazine Oxford Poetry, before going on to publish travel writing, satire, and screenplays. He spent the latter part of his life in the United States, living in Los Angeles from 1937 until his death. By the end of his life, Huxley was widely recognized for being one of the most prominent intellectuals of his time. He was nominated for the Nobel Prize in Literature seven times and was elected Companion of Literature by the Royal Society of Literature in 1962.
His works
Huxley was a humanist and pacifist. He grew interested in philosophical mysticism and universalism, addressing these subjects with works such as The Perennial Philosophy (1945)—which illustrates commonalities between Western and Eastern mysticism. As far as his literary works, his most famous novel Brave New World (1932) has been ranked at number 5 on its list of the 100 best English-language novels of the 20th century by the Modern Library in 1999.
Death
Aldous Huxley died of Laryngeal cancer on November 22, 1963. Media coverage of Huxley's death was overshadowed by the assassination of American President John F. Kennedy on the same day, less than seven hours before Huxley's death.
Source: Wikipedia
Related books
Books by Aldous Huxley:
Related Pages