---
TEACHING RESOURCES
---
EFL and ESL Resources | 'The Alchemist by Paulo Coelho '
---
Materials for English teachers and learners
---
The Alchemist by Paulo Coelho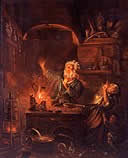 TThe Alchemist by the Brazilian author Paulo Coelho is one of the best-selling books in history. It was first published in 1988 in Portuguese and is now translated internationally into many languages. The novel is an allegory that follows a young Andalusian shepherd in his journey to the pyramids of Egypt, after having a recurring dream of finding a treasure there. Coelho wrote The Alchemist in only two weeks in 1987. He explained that he was able to write at this pace because the story was "already written in [his] soul.". ...
[read more]
1.
The Alchemist by Paulo Coelho
2.
More literary resources
3.
Quotes about education
4.
Quotes about art
5.
Idioms about art
6.
How to write a book review?