---
TEACHING RESOURCES
---
EFL and ESL Resources | 'Greta Thunberg and climate crisis'
---
Materials for English teachers and learners
---
Greta Thunberg and climate crisis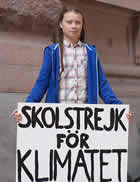 Greta Thunberg, born on 3rd January 2003, is a Swedish environmental activist on climate change whose campaigning has gained international recognition. Together with many students around the world, Greta launched a school climate strike movement known as "Fridays for Future"...
[read more]
1.
Greta Thunberg
2.
Climate Change
3.
The ozone layer depletion
4.
Pollution and its effect on the environment.
5.
7 ways to protect the environment.
6.
Sustainable development
7.
Rainforests
8.
Vocabulary list (the environment)
9.
Vocabulary exercise (the environment)