---
ENGLISH SPEAKING COUNTRIES
---
Fact Sheet about the Republic of Ireland
---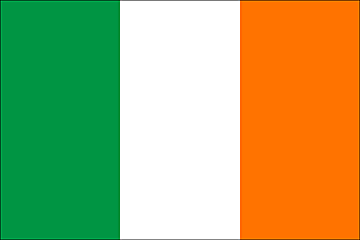 The Republic of Ireland
Ireland, also called the Republic of Ireland or the Emerald Isle (the green island), is a sovereign state in Europe occupying about five-sixths of the island of Ireland. The modern Irish state was established in 1922 as the Irish Free State following the Anglo-Irish Treaty which brought an end to the Irish War of Independence.
Dublin is the capital and most populated city of Ireland. The English name for the city is derived from the Irish name Dubhlinn, meaning 'black poo'. Dublin is situated near the midpoint of Ireland's east coast, at the mouth of the River Liffey and the centre of the Dublin Region.
Ireland extends over an area of approximately five-sixths (70,273 km2/27,133 sq mi) of the island of Ireland (84,421 km2/32,595 sq mi), with Northern Ireland constituting the remainder.
The island is bounded to the north and west by the Atlantic Ocean and to the northeast by the North Channel. To the east, the Irish Sea connects to the Atlantic Ocean via St George's Channel and the Celtic Sea to the southwest.
The population of Ireland in 2008 was approximately 4.35 million.
Under the Constitution of Ireland, both Irish and English have official status, with Irish being the national and first official language.
Here are more pages about Ireland: