---
ENGLISH SPEAKING COUNTRIES
---
New Zealand
---
Facts about New Zealand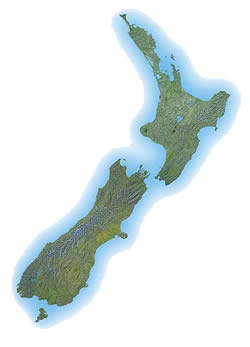 New Zealand is an island country in the southwestern Pacific Ocean.
General Facts
Capital: Wellington
Dialing code: +64
Population: 4.433 million (2012)
Government: Unitary state, Constitutional monarchy, Parliamentary system
Official languages: English Language, Maori language, New Zealand Sign Language
Demonym: New Zealander; Kiwi (colloquial)
Geography
New Zealand comprises two main landmasses:
1. The North Island, or Te Ika-a-Māui,
2. The South Island, or Te Waipounamu
There are also numerous other smaller islands.
It is situated some 1,500 kilometers (900 mi) east of Australia.
History
Māori were the first to arrive in New Zealand, journeying in canoes from Hawaiki about 1,000 years ago.
A Dutchman, Abel Tasman, was the first European to sight the country.
In 1840 the British Crown and Māori signed the Treaty of Waitangi, making New Zealand a British colony.
The building where the treaty was signed has been preserved and, today, the Waitangi Treaty Grounds are a popular attraction.
Climate
New Zealand has a temperate climate with moderately high rainfall and many hours of sunshine.
Major destinations
Source: Wikipedia
Related Pages