---
ENGLISH SPEAKING COUNTRIES
---
Fact Sheet about Jamaica
---
Jamaica: fact sheet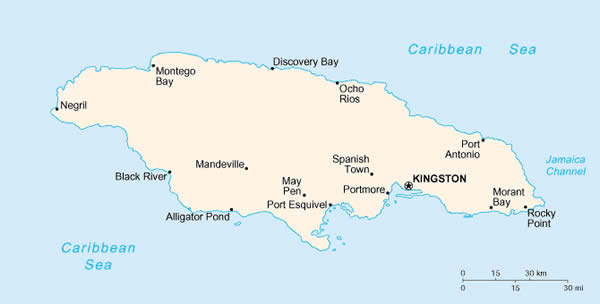 This page provides fact sheet about Jamaica, its location, population, history and political system.
Location and population
Jamaica is an island country situated in the Caribbean Sea. The island is 10,990 square kilometers (around 4,240 sq mi) large and is is the fifth-largest island country in the Caribbean.
With 2.8 million people, it is the third most populous Anglophone country in the Americas, after the United States and Canada.
Kingston is the country's largest city and its capital, with a population of 937,700.
Jamaica has a large diaspora around the world, due to emigration from the country.
History
Historically, Jamaica had been a Spanish possession known as

Santiago

before changing its name to Jamaica under the rule of England (later Great Britain) in 1655.
It achieved full independence from the United Kingdom on 6 August 1962.
Jamaica is now within the Commonwealth realm, with Queen Elizabeth II as its monarch and head of state.
Political system
Jamaica is a parliamentary constitutional monarchy with legislative power vested in the bicameral Parliament of Jamaica, consisting of an appointed Senate and a directly elected House of Representatives.
Currency
Source: Wikipedia
Here are more pages about Jamaica: