---
ENGLISH SPEAKING COUNTRIES
---
Guyana Fact Sheet
---
Guyana Fact Sheet
| | |
| --- | --- |
| Official name: | Co-operative Republic of Guyana |
| Capital: | Georgetown |
| Size: | 214,970 km² |
| Population: | 735,909 (2016 estimate) |
| Borders: | Suriname (east), Brazil (south, southwest), Venezuela (west), Atlantic Ocean (north) |
| Currency: | Guyana Dollar |
| Official language: | English |
| Nationality / People: | A person of Guyanese nationality is a Guyanese. |
| Time zone : | GYT (Guyana Time) (UTC-4) |
The country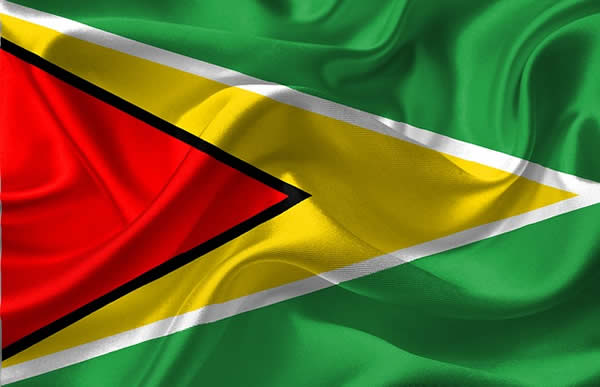 Guyana, officially the Co-operative Republic of Guyana, is a sovereign state on the northern mainland of South America. It is bordered by the Atlantic Ocean to the north, Brazil to the south and southwest, Suriname to the east and Venezuela to the west. With 215,000 square kilometers (83,000 sq mi), Guyana is the third-smallest country on mainland South America after Uruguay and Suriname.
Population
Originally inhabited by several indigenous groups, Guyana was settled by the Dutch before coming under British control in the late 18th century. It was governed as the plantation economy of British Guiana until independence in 1966, and officially became a republic within the British Commonwealth of Nations in 1970. The legacy of British rule is reflected in the country's diverse population, which includes Indian, African, Amerindian, and multiracial groups.
Language
Guyana also has the distinction of being the only South American nation in which English is the official language. The majority of the population, however, speak Guyanese Creole, an English-based creole language.
Other interesting facts
In addition to being part of the Anglophone Caribbean, Guyana is one of the few Caribbean countries that is not an island in the West Indies.
The Caribbean Community (CARICOM), of which Guyana is a member, is headquartered in Guyana's capital and largest city, Georgetown.
In 2008, the country joined the Union of South American Nations as a founding member.
Source: Wikipedia
Here are more pages about Belize: