---
ENGLISH SPEAKING COUNTRIES
---
Twelve Interesting Facts about Montreal
---

Here are twelve facts about Montreal. Montreal is a big, busy, exhilarating city, with so much to see and do.
Below will find some interesting information about the city that may surprise you.
Montreal is the most populous municipality in the Canadian province of Quebec and the second-most populous municipality in Canada.
Originally called Ville-Marie, or "City of Mary", it is named after Mount Royal, the triple-peaked hill in the heart of the city.
The city is built on the Island of Montreal, which took its name from the same source as the city.
A tunnel and fifteen bridges link the island where Montreal is built, to the mainland.
Montreal has a distinct four-season continental climate with warm to hot summers and cold, snowy winters.
In 2016, the city had a population of 1,704,694, with a population of 1,942,044 in the urban agglomeration, including all of the other municipalities on the Island of Montreal. The broader metropolitan area had a population of 4,098,927.
French is the city's official language and is the language spoken at home by 49.8% of the population of the city, followed by English at 22.8% and 18.3% other languages.
Montreal is one of the most bilingual cities in Quebec and Canada, with over 59% of the population able to speak both English and French. Montreal is the second largest primarily French-speaking city in the world, after Paris.
Montreal is known for its Underground City which is a series of interconnected tunnels beneath Montreal. It runs for over 32 km (20 mi). During the winter season, more than 500,000 people use the tunnels on a daily basis. The tunnels connect shopping malls, museums, universities, hotels, banks, offices and seven metro stations.
The cross on Mount Royal is one of Montreal's most iconic landmarks. It was erected in 1643 by Paul de Chomedey to thank God for having spared the colony from flooding. Now, no building in the city can be taller than the Mount Royal Cross.
John Lennon wrote his famous song, Give peace a chance, in Montreal during a Bed-in at the Queen Elizabeth Hotel on June 1, 1969.
Montreal has hosted multiple international conferences and events, including the 1967 International and Universal Exposition and the 1976 Summer Olympics. It is the only Canadian city to have held the Summer Olympics.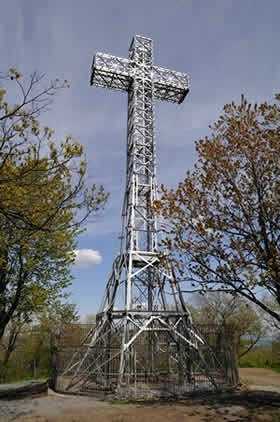 Source: Wikipedia
Related Pages